Realtor® of the Week article

(Pomerado Newspaper Group - September 10, 2009)

George Cooke, a top producing Realtor with Coldwell Banker in Rancho Bernardo, provides outstanding service to his clients with a winning combination of community expertise and business marketing skills.

"According to recent surveys, 87% of home buyers look for homes online before they ever talk with a real estate agent", said Cooke, "so it's important to have a marketing plan that makes your home stand out on the Internet".

Good marketing makes a big difference, and strategic pricing is one of the most important factors. Identifying comparable sales for a home (the "comps") is one way to measure the market. But Cooke's analysis goes well beyond that. By understanding what is happening in a local micro market, (for example the 55+ homes in Rancho Bernardo, newly developed homes in the area, or the I-15 condo market), George helps his clients predict what the most effective sales price will be for their home.

"My goal is to redefine full-service", Cooke said. "I listen carefully to my clients' needs, and then I set out to exceed their expectations". "For each new listing, I work with my sellers to create a Photo Marketing Plan, and then I build a custom webpage with all the important information and benefits for that property. Every listing gets professional photography and a virtual tour for the Internet. Another thing I provide is professional staging consultants, who recommend the best way to prepare each house for showings."

A 30 year area resident, Cooke has a long record of community involvement. He stays involved with a wide variety of community organizations, and donates web hosting services for several of their Web sites. The Rancho Bernardo Planning Board, Community Council, Community Park, Dog Park, Neighborhood Watch, Historical Society, and Hall of Fame all have websites that are maintained by Cooke.

When the I-15 Managed Lanes project was being planned, Cooke worked with government and transportation officials to identify the best site for new the Rancho Bernardo Transit Station. If you drive by the RB Transit Station today on West Bernardo Drive, you'll see the street that is named "George Cooke Express Drive". As a long-time chair of the RB Traffic and Transportation Committee, Cooke was involved in many projects including the RB Transit Station, Camino Del Norte pedestrian bridge and road improvements, sound walls, and traffic safety in residential communities and near schools. In 2003, he was inducted into the Rancho Bernardo Hall of Fame, an organization which honors outstanding community volunteers. He also serves on the Board of Directors for the Rancho Bernardo Historical Society.

Cooke has an extensive collection of aerial photographs which he shares in the community and uses to help market his listings. He has donated his aerial photographs to the community centers and various organizations in and around Rancho Bernardo. Each year he distributes approximately 30,000 copies of his "Get the Big Picture" calendar, featuring aerial photographs of Rancho Bernardo and the surrounding areas. Many of these photos can be seen on his website, GeorgeCooke.com, along with community information, homes for sale, and hot topics in real estate.

Cooke holds several important real estate designations. He is a certified e-PRO (Internet Marketing Specialist), SRES (Seniors Real Estate Specialist), QSC (Quality Service Certified), and CNS (Certified Negotiations Specialist). In March of this year he named on the list of San Diego's 2009 FIVE STAR Real Estate Agents, as reported in San Diego Magazine.

Cooke can be contacted at 858-674-1222 or by email at George@GeorgeCooke.com.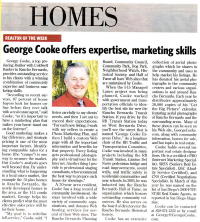 Click here for an expanded view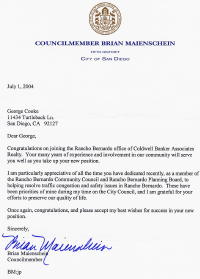 Click here for an expanded view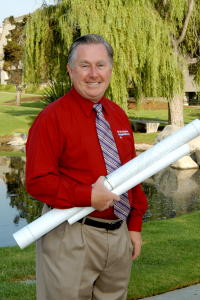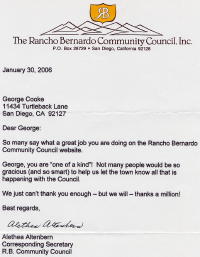 Click here for an expanded view